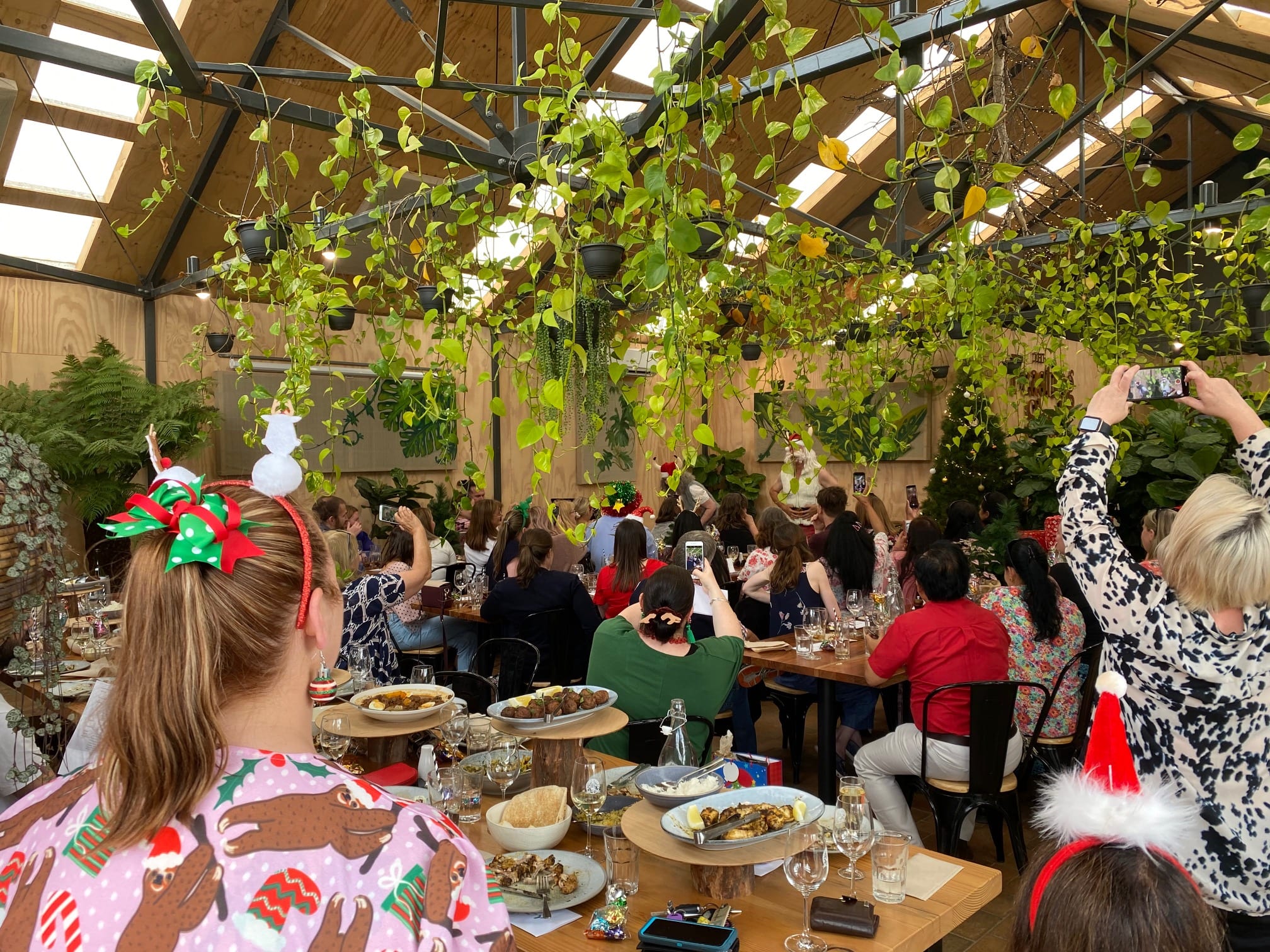 FUNCTIONS
Café by day, function venue by night – The Garden Feast Functions Venue is a modern yet rustic space located uniquely within the leafiness of The Garden Feast Nursery. A plethora of on-trend indoor plants hang from the metal beams along with a large upside down branch featuring fairy lights in the cathedral style ceiling. There is also the outdoor terrace area that is dressed with festoon lighting and surrounded by plants.
We welcome all celebrations from weddings, engagements, milestone birthdays, christenings, memorials and wakes through to corporate functions and events. Whatever the occasion, don't hesitate to contact us and have a chat – we love hosting community groups and clubs too.
Our venue caters from 60 – 150 guests and offers cocktail functions where you can choose from classic comfort style finger food through to upmarket, elegant canapes. We also do two and three course sit down dinners. Our specialty however, is our signature feasting buffets. They offer a vast selection of foods, styled impressively on a central table for guests to help themselves.
To open exclusively we require a minimum of 60 adult guests. Children are more than welcome at the Garden Feast, however are not included in the minimum number of adult guests required. Children are classified from 5-12 inclusive. Please note we do not charge venue hire for our venue.
Daytime functions for up to 60 guests can be accommodated during café service. Exclusive areas can be made available to your guests. Please enquire with our functions coordinator for more information on daytime functions.
Pricing + Function Times
Finger food Functions from $30-$60 pp
Feasting Buffets from $35-$55 pp
Sit down Dinners from $50-65 pp
Daytime Afternoon High Tea $45 pp
Our evening functions are based on a duration of four hours. Due to the change over from our daytime café, the earliest that a function can start is 6pm. Function extensions are available upon request but must be booked prior to the night and cannot go past 12pm.
Our Food + Special Diets & Allergies
Our reputation is being built from our philosophy of fresh, small batch cooking utilising fresh seasonal produce from pot to plate where possible. Our professional chefs craft our food from scratch where you can be assured of quality, delicious and beautifully presented food.
We cater for a range of special dietary needs. Depending on the menu chosen and the dietary need/allergy, the menu may either be altered or a different meal offered. Whilst we endeavor to assist in catering for a range of needs, not everything can be accommodated for. We need to know about these requests prior to the function so that we can confirm and cater for them accordingly.
Beverage Pricing + Options
Packages from $30-$45 (based on a 4 hour function)
Consumption Bar (tab to be paid at the completion of the function)
Cash bar (guest to pay for their own)
Packages
Our beverage packages are based on a four hour duration and allows you to know exactly how much you are spending prior to your function. We offer a children's soft drink package priced at $10. For finger food or feasting buffet functions guests are served drinks at the bar, for sit down functions we serve drinks by table service to your guests.
Package 1: $30 pp
House sparkling, white wine, red wine
Carlton Draft + James Boag's light
Soft drinks – Coke, lemonade, lemon squash
Package 2: $45 pp
Sparkling + Moscato
Sauvignon Blanc & Chardonnay
Shiraz & Cab Merlot
Corona, Furphy + James Boag's Light
Apple Cider
Mineral Water + Soft drinks – Coke, coke no sugar, lemonade, lemon squash
Orange Juice
Consumption Bar
All drinks are served to your guests via waiter service and are charged per bottle/glass/carafe depending on the style of function. The account is then paid at the completion of the evening.
Cash Bar
Guests pay for their own drinks at bar prices with the selection of drinks offered from our standard bar menu.
Function Styling
If you wish to bring in decorations, flowers or special touches to personalise your function, please note the access is allowed in consultation with our functions manager. Styling must be removed at the conclusion of the function with up to 30 minutes allowed after the booked finish time.
Cakes
You may bring a celebratory cake which we can cut and platter up into coffee size serves for your guests at no charge. Note that cakes may not be used as a course.
Security
All functions require a security guard to ensure that safety of all guests and staff. The cost is $50 per hour based on your function duration (minimum of 4 hours). If your function exceeds 100 guests, two guards are required.  Security is booked by us and the cost is added to your account.
Entertainment
You are most welcome to bring in a band, DJ or entertainers for your function. Please note that prior approval and details for set up and pack down needs to be discussed and confirmed with our functions manager.
Audio/AV
We have mood speakers available for you to play your own music via your phone or our computer. We have a HD projector, screen, and microphone available to hire for your event. $250.
Tentative Booking
We are able to place a tentative hold on your preferred function date for 7 days. If we haven't heard from you and the period lapses, the date is reopened for other guests to book. Should we have another person who wishes to book within that time, we will contact you and allow you preference to secure.
To Make a Booking
Simply email us or give us a call to let us know that you would like to proceed with booking your function. We will email you a booking form and our terms and conditions. Once we receive your booking deposit of $500, along with your completed booking form we will send you a confirmation email. Deposits are non-refundable in the case of cancellation.
MENUS
Our functions are offered with three types of menus; we have a canape menu for a cocktail style function, you can treat your guests to a buffet and let them serve themselves from the options offered or we can offer a sit down dinner with alternative plates. Please click on the links below to download the menu that is right for you: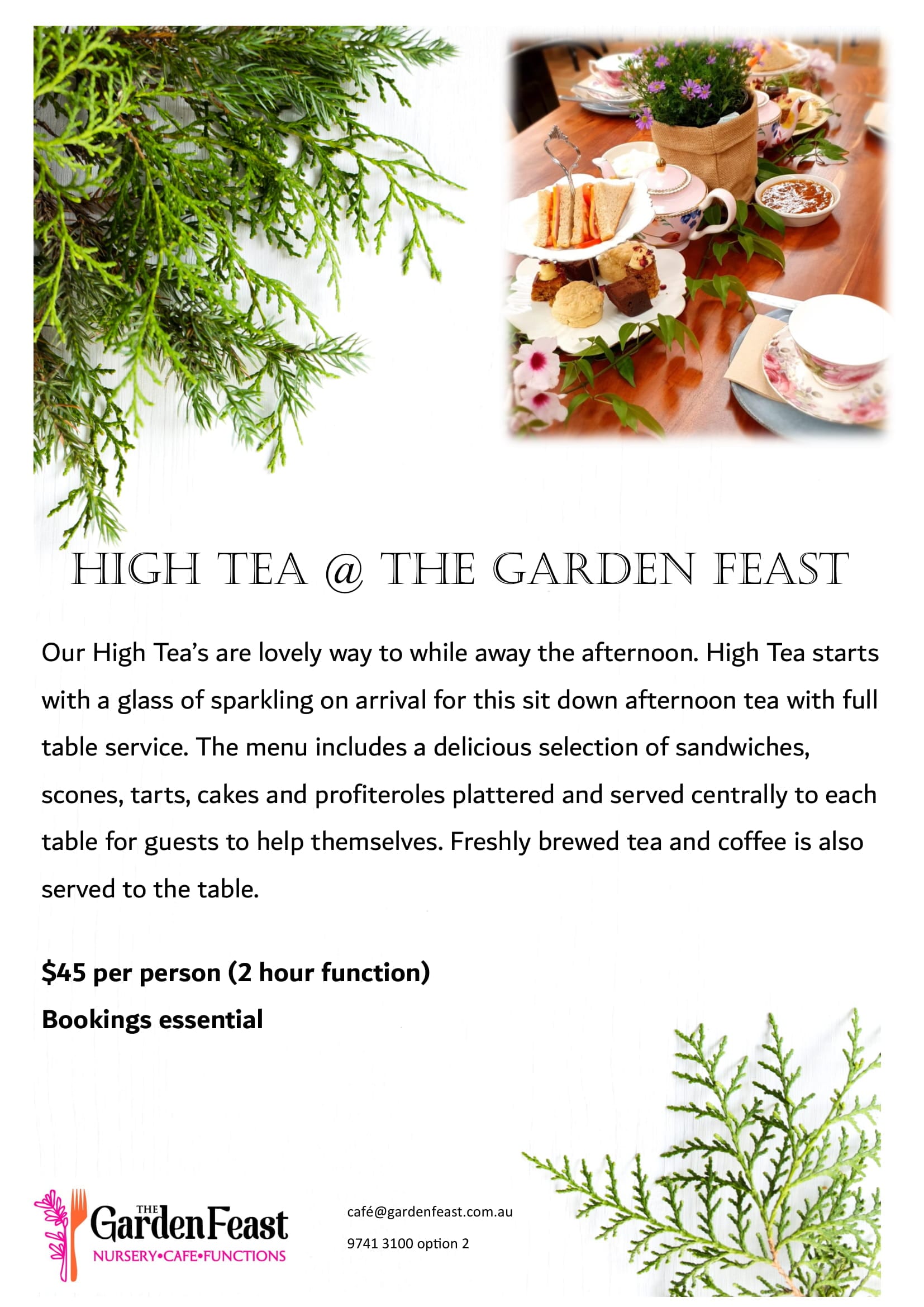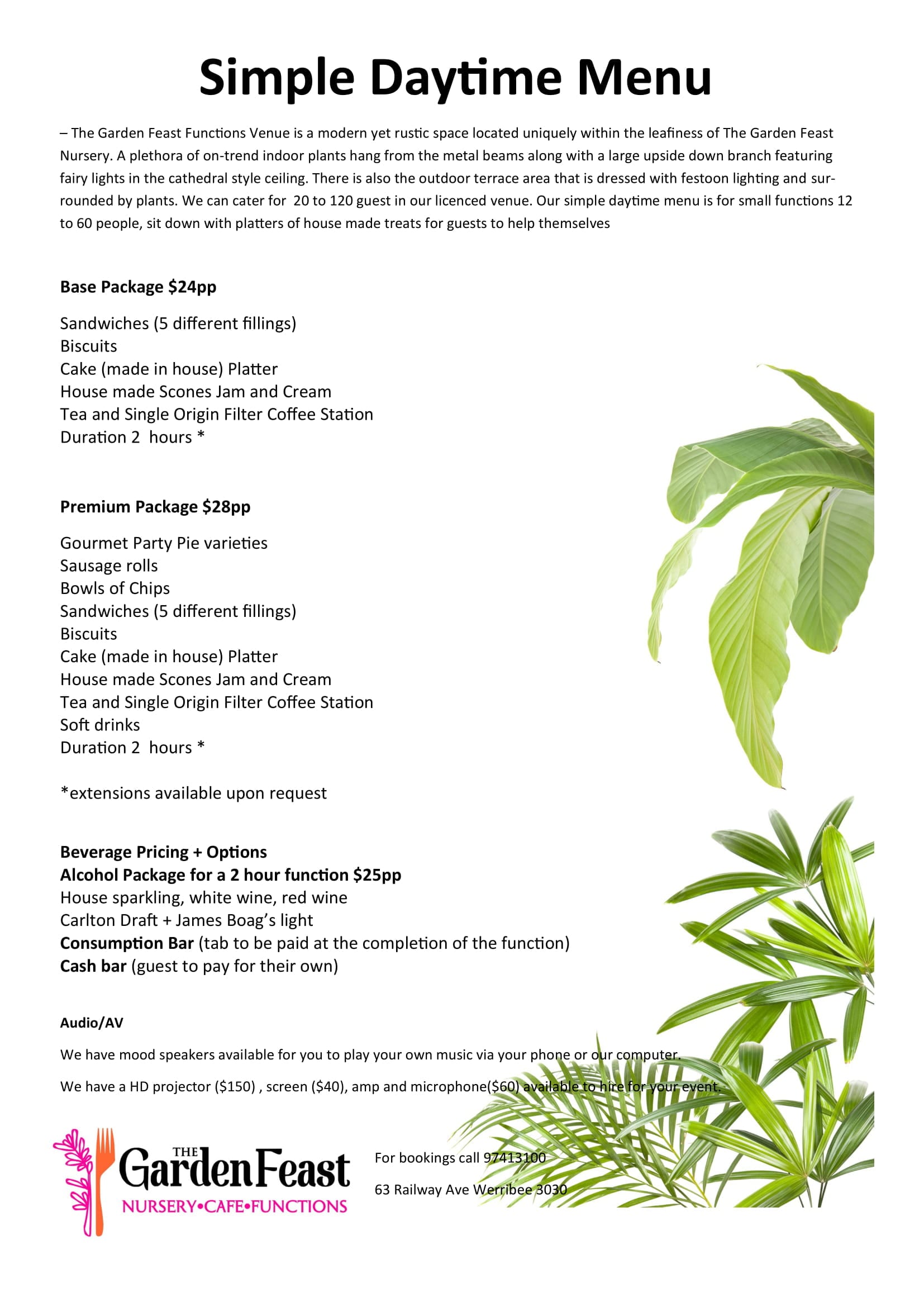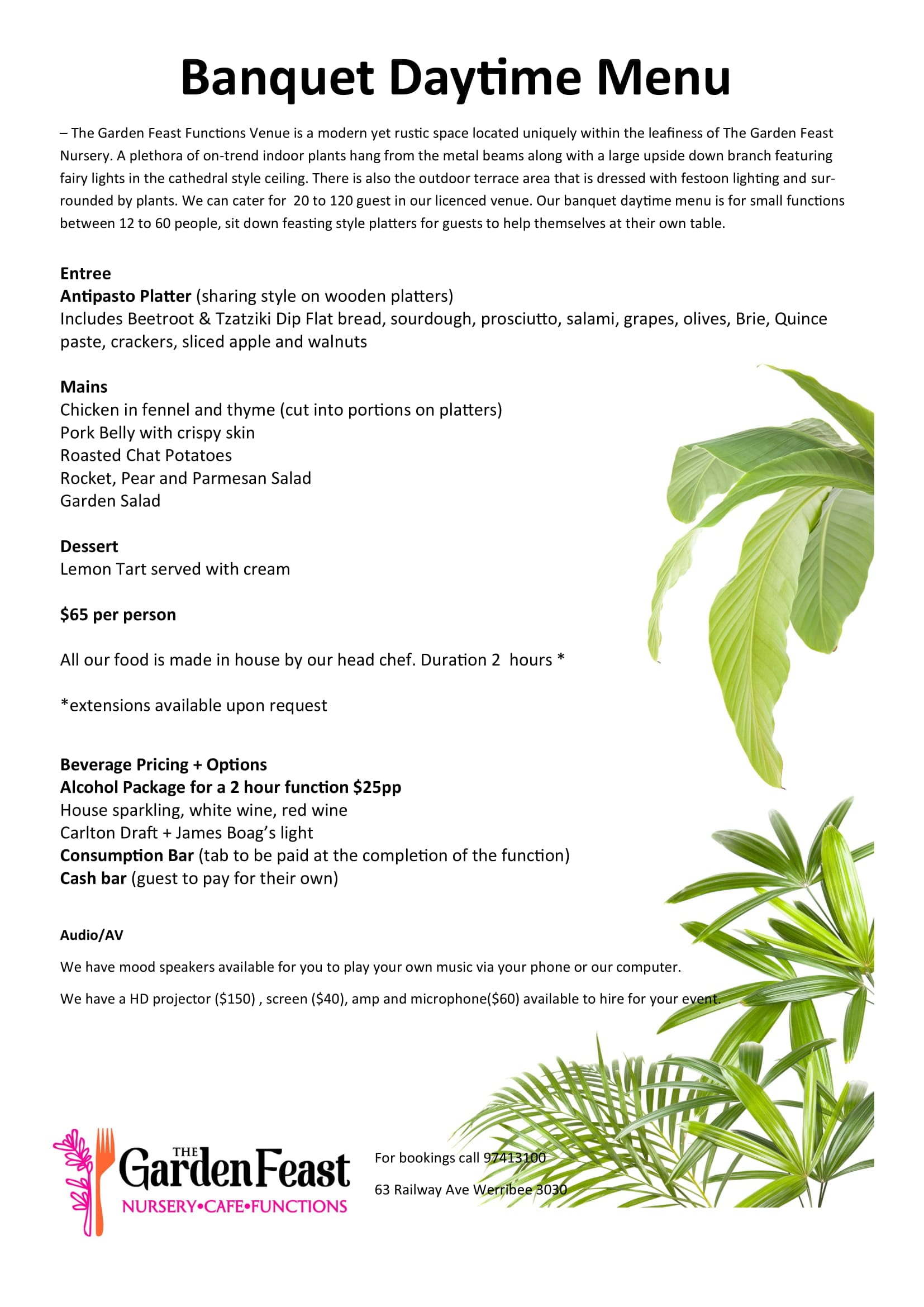 DOWNLOADABLE MENUS
Note : Currently listed menus availability and cost to be confirmed by our Function CoOrdinator.